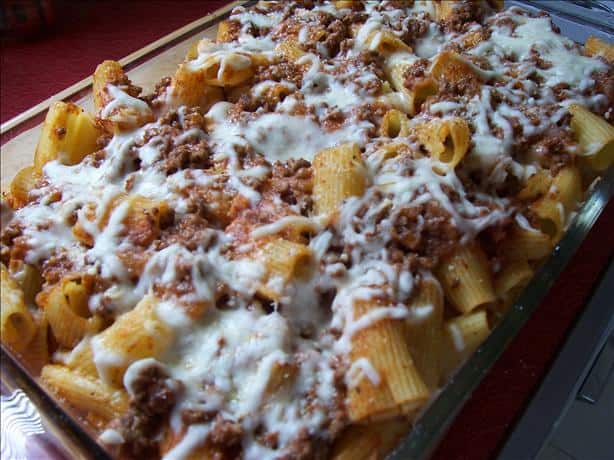 1/2 lb lean ground beef
1/2 cup onion, chopped
1 clove garlic, minced
2 cups meatless sauce
1/2 cup chicken broth
1/2 teaspoon dried oregano leaves
8oz package ziti pasta, cooked and drained
8oz cup shredded mozzarella cheese
1/2 cup grated parmesan cheese
Preheat oven to 350 degrees F. In a large skillet, cook ground beef, onions, and garlic over medium-high heat for 6 to 8 minutes or until beef is browned; stirring frequently. Stir in spaghetti sauce, chicken broth, and oregano. Reduce heat and simmer for 10 minutes. Stir 1/2 cup of the sauce into the cooked ziti noodles. Spoon 1/2 of the ziti mixture into a baking dish. Sprinkle with 1/2 of mozzarella cheese and 1/2 the Parmesan cheese. Top with half the sauce, then remaining ziti mixture and remaining sauce. Cover and bake 20 minutes. Sprinkle with remaining mozzarella and Parmesan cheese. Return to oven and bake uncovered for 10 minutes or until heated through.