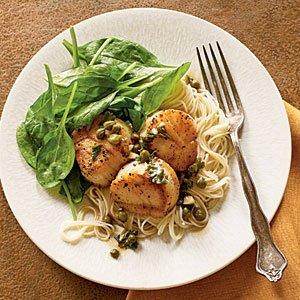 3/4  pounds  sea scallops (about 6)
1/8  teaspoon  salt
1/8  teaspoon  freshly ground black pepper
3  teaspoons  olive oil, divided
1  garlic clove, chopped
1/4  cup  vermouth
2  tablespoons  chopped fresh parsley
1  tablespoons  fresh lemon juice
1  tablespoons  butter
2  teaspoons  capers
1  (10-ounce) package fresh baby spinach
Heat a large cast-iron skillet over high heat. Pat scallops dry with paper towels. Sprinkle salt and freshly ground pepper over scallops. Add 1 tablespoon olive oil to pan; swirl to coat. Add scallops; cook 2 minutes on each side or until browned and done. Remove from pan; keep warm.
Reduce heat to medium. Add chopped garlic to pan; cook 10 seconds. Add vermouth, scraping pan to loosen browned bits; cook 2 minutes or until liquid is reduced by half. Remove from heat. Add parsley, fresh lemon juice, butter, and capers, stirring until butter melts. Pour sauce in a bowl.
Heat remaining 2 teaspoons oil in pan over medium-high heat. Add spinach; sauté 30 seconds or until spinach almost wilts. Drizzle sauce over scallops; serve with spinach.