If you'll recall, this past summer, I was so overwhelmed by the athleticism and the overall awesomeness of the athletes competing in the Olympics. Having a different understanding of the capabilities of the body and then getting to watch these athletes take that to such an extreme… it really serves as a testament to the power of the human body.
In other words… I'm still kind of in awe.
But I became curious. If I'm just now becoming interested in athleticism… who have I missed? Whose legendary stories have I not heard? Whose stories am I ignorant about, and need to know?
Basically, there are some triple-oh-gee (sorry) athletes that are not only inspiring, but overall bosses in their field. Both you and I need to know them. And, if you already knew them, then let me remind you.
1) Willye White:
Elusive, though she may be, the community in Chicago that thought her deserving of eternal acknowledgement made sure to prominently display a snapshot of her in action:
White has the distinct honor of being "the first American track and field athlete to compete in five straight Olympics, from 1956 to 1972." Having the same coach as Wilma Rudolph, White went on to win silver medals in 1956 and 1964, and also take the gold in the long jump in 1963's Sao Paulo games. That 1956 silver, in Melbourne, was the first time an American woman ever medaled in that event.
There wasn't much information about White on the Internets, but I'm sure the Schomburg has tons of information on her. I'm just morally opposed to going all the way up to Harlem to get it.
2) Althea Gibson:
Do you see that reach? Gibson began her tennis career in the late 1940s as a teen in North Carolina, and continued throughout her time at Florida A&M University, where she graduated in 1953.
Gibson's hard work began to pay off. In 1952 and '53, the United States Tennis Association had her ranked in their end-of-the-year top ten rankings, and again from '55-'58. She was the top-ranked player in both '57 and '58. Between the years of 1956-1958, she was ranked in the top ten tennis players in the world, and was ranked as number one in 1957 as well as 1958.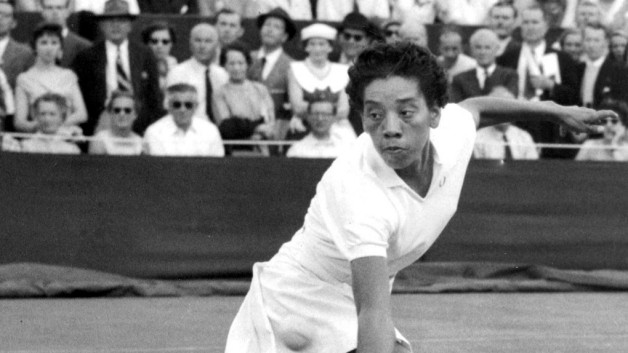 Gibson won the French Open in 1956, making her the first Black woman to win a major. She would later go on to win both Wimbledon and the US National Championships twice in both 1957 and '57.
…again, like a boss.
3) Florence Griffith-Joyner:
Kinda just wanted an opportunity to laugh at Bill Cosby in a onesie.
I'm not gonna talk about Flo Jo. I'm just gonna say the following:
Four gold medals.
Three silvers.
The fastest woman of all time.
Best nails ever.
4) Wilma Rudolph:
Wilma Rudolph is all legs. Do you see that? Do you see the struggle and the pain in the faces of their competitors, crushed that La Gazzella Negra is crushing them?
Wilma's story is exceptional because she fought both polio and paralysis (due to her polio) as a child. After spending much of her adolescence in a leg brace and orthopaedic shoes, her family moved her to Nashville where Fisk University's med school could help her develop the ability to walk and run like the athlete we know her to be, today. Before long, she'd become a high school basketball star and was soon discovered for her running talents. By the age of 20 Rudolph found herself competing in Rome, for the 1960 Summer Olympics, eventually becoming the first American woman to win [not one, not two, but] three Gold medals…
…like a boss.
5) Alice Coachman:
Coachman, nee 1923, has the distinct honor of being the first black woman to win an Olympic gold medal, and was the only woman to medal at all in this particular year's Olympic games. And she did it at age 25.
The end.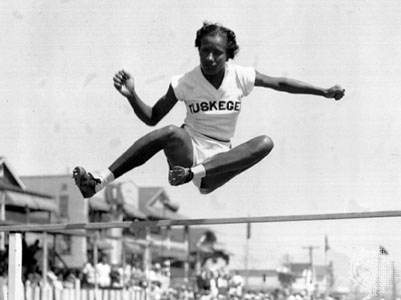 I'll provide you a towel to set on the floor, so that you don't scuff your pants as you bow to her dopeness.
So, share. Who else deserves praise? Who else's story needs to be told? Give me a reason to go to the Schomburg, y'all. I dare you.