If you don't like fish, this recipe can easily be substituted for shrimp, chicken breast, or even tofu!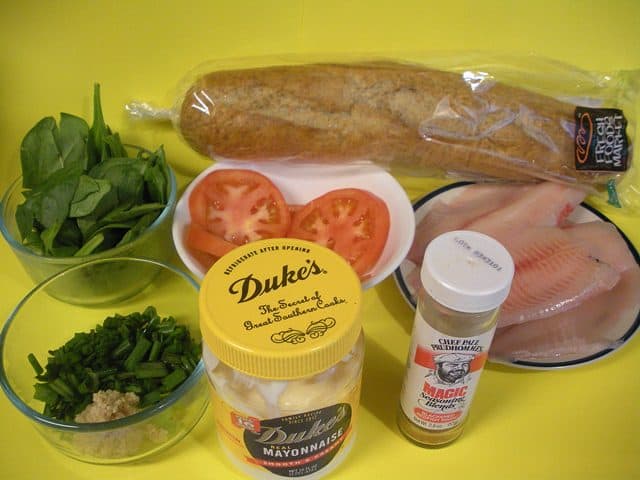 Ingredients:
1.  4 small fillets of tilapia or any mild white fish
blackening spice (I use Chef Prudhomme – You can make your own as well, by combining the herbs and spices below – the blackening spice recipe is from BigDaddy's house on the food Network channel)
3 tablespoons smoked paprika
1/2 teaspoon salt
1 tablespoon onion powder
1 teaspoon ground black pepper
1 teaspoon cayenne pepper
1 teaspoon dried ground thyme
1 teaspoon dried oregano
1/2 teaspoon garlic powder
2.  1 tsp butter
3.  1 tbsp olive oil
4.  1 loaf whole wheat french bread
5.  1/2 cup sliced green onions
6.  1 tbsp minced garlic (2 minced cloves)
7.  1 tbsp real mayo
8.  Pepper
9.  1 big handful of baby spinach
10.  1 tomato, sliced
Directions
1. Combine the Mayo, Green Onions, Garlic to make a spread.

2. Split french bread in half lengthwise.  Scoop out the 'innards' of the bread.  Toast the bread until crunchy in a hot pan or oven.  Save the innards to make fresh croutons for another day, or throw out the bread.

3. Spread green onion mixture onto both sides of the bread.  Layer Spinach and Tomato on the top half. Season the tomatoes with pepper.

4. Season the fillets with blackening spice on both sides.

5. Melt butter and olive oil in a hot pan, preferably cast iron.  Cook the fish on both sides until the fish forms a reddish crust from the blackening spices.
6. Layer the fish onto the bottom half of the french bread.  Cut the sandwich in 4 pieces, and serve!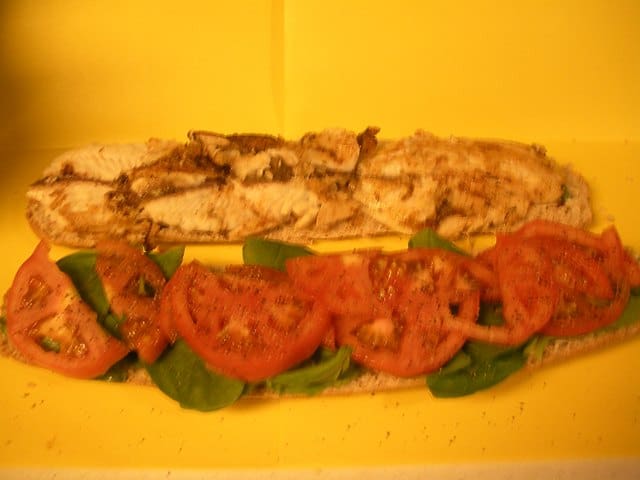 Enjoy this sandwich with perhaps some baked sweet potato fries, or a spinach salad.  In fact, add a bit of buttermilk and salt to the green onion spread, and you have a mighty tasty ranch-like dressing! (Serves 4.)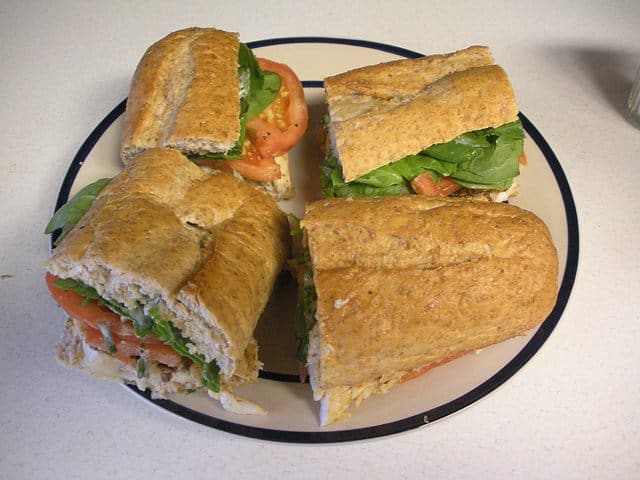 How to vote: Drop a line in the comments! Rate it – what do you like about it? What do you dislike? Give it 1 star, 2 stars, 3 stars or 4 stars! One vote per person, please.