I was just saying to myself, "Self, I really need to get back into doing those fitness gear reviews that I once loved."
So, imagine how I jumped for joy once the opportunity to review the Polar RC3 GPS fell into my lap, courtesy of FitFluential?
Let's get into it!
What is the Polar RC3 GPS?
Intended to be a triathlete's dream watch, but also manages to work for those of us who love our tabatas and HIIT, the Polar RC3 GPS (with heart rate monitor) is a training computer that can give you your distance, your speed, and even altitude thanks to a GPS sensor that lives within the watch.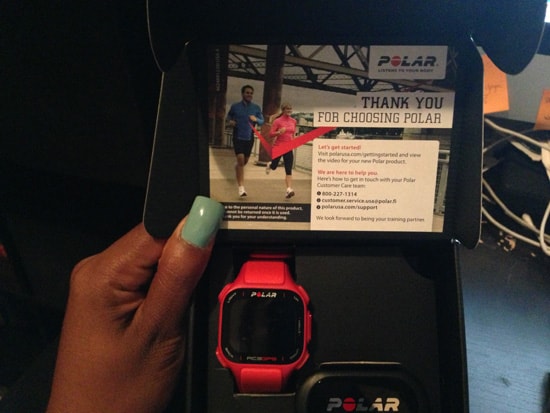 The watch also comes with a built-in rechargeable battery, that allows the watch to plug into your computer via a non-proprietary (meaning, it's not some fancy cord that's exclusive to Polar, making it easy to replace if it becomes damaged) cord and charge easily. The battery boasts a pretty lengthy lasting power – even with GPS in use, the watch can last a little over twelve hours. (Take it from me – most GPS sensors that are simply sensors don't last that long, let alone with a watch!)
The watch provides you with the same kind of smart coaching I talked about with regards to the Polar FT60, but adds more:
Your speed, both in total and per individual lap
Your distance, both in total and for each individual lap
lets you track your laps
your heart rate and average heart rate per lap
can tell you about your total calories burned
Syncs all of your information with Polar Personal Trainer (more on that later!)
Can also be used with a bike mount that makes the watch far more convenient for cyclists
Polar did a pretty good job of creating an introductory video to the ins and outs of the watch…
…so I'm going to go right into talking about data collection and who I think this watch is really going to help the most. Stay tuned!
You can check out the watch here, on Amazon! What do you think so far?