Hi. So, let's talk about curves, shall we?
There is a [redacted] inch difference between my waist and my hips, and there will probably always be a [redacted] inch difference between the two, which means I will always be some kind of "curvy." (There's a photo somewhere in my Instagram of all the booty my weight lifting has helped me grow!)
And, because I fully intend to hold onto this hip-to-waist ratio, I've started to pay extra-special attention to my clothes and how they perform while I'm in the middle of training. Like, for instance, workout tights. Sometimes, they slip, they slide, they ride up, they're not long enough in the torso, they're perpetual wedgie givers, they refuse to stay put…. blah to all that. It's 2014, and the curvy girls need pants that behave while they train.
I searched high and low for my dream tights. I ignored the fact that curvy girls apparently don't model training gear, and – for the sake of this post – you should, too. What matters most is that you consider these tips when making your next purchase, because I've got the goods to keep you safe, comfy, and stress free!
Note: Some of these links are my personal links for purchase; meaning, if you make a purchase using one of these links, the manufacturer pays me a few pennies for leading you to them!
What's so wrong with sweatpants?
For some of us, a baggy pair of sweatpants makes a world of sense – they're cheap, they come in a multitude of sizes, and thanks to the elastic and the drawstrings, they stay put quite nicely. Buuuuuut, my biggest complaint is how unsafe sweatpants can be during training.
The baggy nature of the pant near the ankle area can quickly become a trap where your foot gets caught in the leg part of your other foot, because the baggy fabric combined with the elastic closure can form a balloon trap for your ankles. If you can make sweatpants work for your particular activity, go for it. Otherwise, consider wearing a tighter version or smaller size sweatpant, or maybe a jogger/sweatpant capri combo, like these cropped sweatpants available at Old Navy in sizes up to XXL for $19.97 right now.
Consider the "tall" version of your ideal pant.
Some of us have bigger booties, and that means we're constantly tugging at the backs of our pants to keep them up, and keep our 'coin slots' covered. The "tall" version of a good, quality training pant means the pant has a longer torso, allotting for a little more space in the read for you to fit all that booty. One of my favorite examples of this is the Wunder Under pant from Lululemon, available at lululemon.com for $82. (If the price bugs you out, no worries – keep an eye on the "we made too much" section of the site, where colors and styles from past seasons frequently go on sale, and are frequently discounted down to $59 a piece!)
Look for drawstrings.
Sometimes, a good and reliable drawstring can do wonders to keep your pants up in the middle of high-impact activities like running, plyometrics – you burpees lovers…and everyone loves burpees, right? – and whatever else has got you jumping up in the air (and staying there.) I like the Nike Relay Capris, available at Amazon.com for $55, but my only beef is the actual drawstring – nowadays, most drawstrings in pants come with the actual string connected at the ends, so that it's more of a loop and less like a shoelace.
Also, it's less likely to get lost up in your darn pants.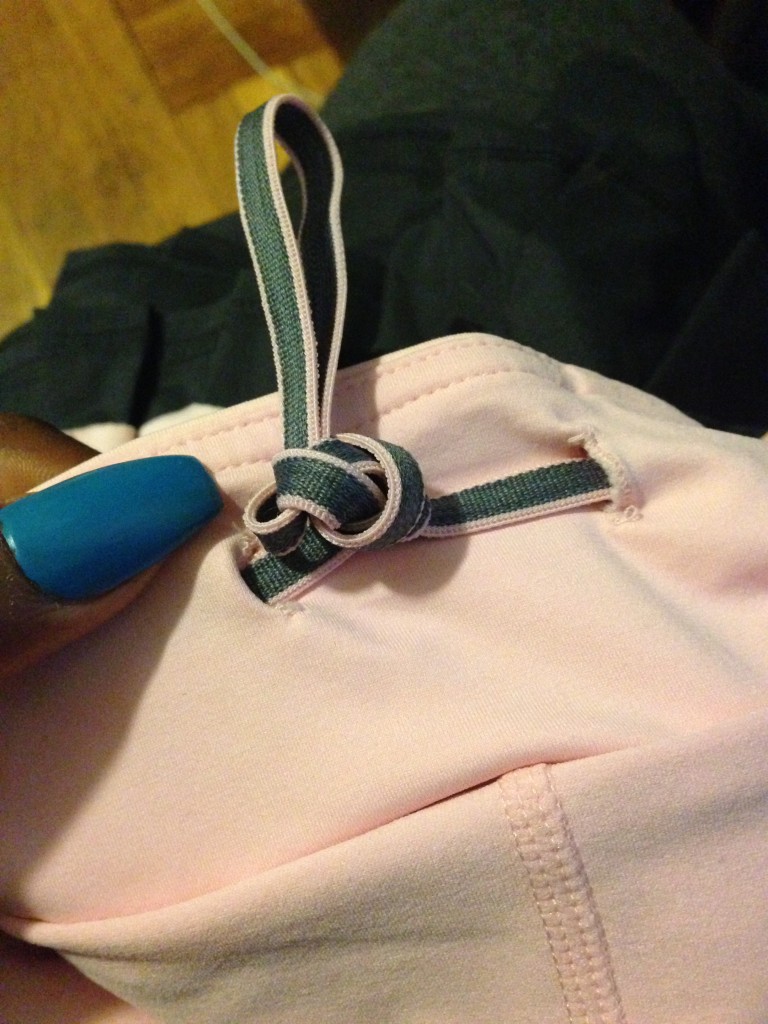 So, until I find my dream pair of pants, consider tying your drawstring together at the end, and then knotting it like above when you're ready to tie it to train.
High-rise pants are your friend.
…like these 3/4-length Performers' Tights from Adidas, for $45 right now.
Full thighs?
If your thighs are getting a little extra loving, there are a few quick tips to help you avoid the inevitable rashes and bruising that can come from having full and active thighs:
Check the inner seams of your pants – are they seamlessly stitched, with a flat seam that doesn't jut out with frayed edges? Or does the seam point outward, serving as an additional irritant? Always check for flat inner seams
Wearing shorts? Consider Bodyglide, a non-goopy, non-messy solution to keep the chafing down to a minimum for any part of the body where skin is constantly rubbing against skin (around and under breasts immediately comes to mind.)
Check for shorts that are either loose and light, or the kind that have the soft-grip material at the seams to keep them in one place when you're moving. The worst thing that could happen is your tight shorts roll up, and then have the thickness of the rolled up fabric cause an unpleasant chafing situation.
Think bermuda-esque shorts! The kind that stop at your knees? Yes! These Nike Pro Core Compression Studio shorts might be for you, available at nike.com for $40.
What tips do you have? What's your favorite pair of workout pants and why? What did I leave out? Let's hear it!