If you missed the first introductions part of this review, you can click here to read it!
The Jawbone UP allows you to track everything from food intake to how you're feeling that day.
I find that, with food journaling, people find it difficult to write down their intake, go search for the caloric intake, do the math… yadda yadda. Having a mobile app that already has the caloric values ready to plug in for you makes a huge difference not only in terms of accountability, but also awareness – did you know that two cups of rice would be over 600 calories before you ate it? No? I bet you'll think about that the next time you have to prepare your plate!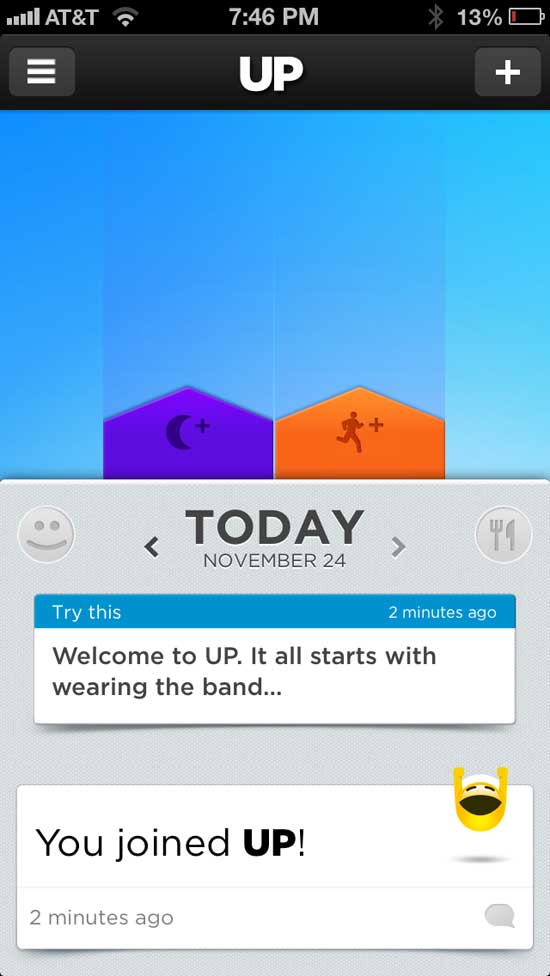 So…you've joined UP. What now? Dinner now. Go eat it… and then enter it. You can scan, type, and snap it:
There's a swipe on the side that appears when you want to modify the amount of sprouts you've eaten. (I, of course, couldn't take screenshots of that because… I don't have a third hand?) You'll notice it tells you the calories and the fiber…
…and you can see that you can also swipe and get the other info, like protein as well as sugar content.
After you snap a photo of your meal, the app very neatly makes it a part of the screen displaying the information for your nutritional intake.
When you're ready to go to bed, you press that little silver button and you see a little green moon flash on your band. That's how you know it's prepping to analyze you for sleep. You then wake up, plug in your band, and see the following:
Sleep analytics! The dark blue shows the deep sleep, the light blue shows the light sleep, and the orange shows when the UP believes I was awake. That's the "awake for 1hr 19min" section of the screen.
(Those middle-of-the-night wake-ups happen for me when I don't walk the puppies enough before bedtime… they fidget and wander around, bumping into stuff in the middle of the night. Awesome, right?)
Since it's now time for me to go on with my day, I go through the app to spot what else might be of use in here… and lo and behold…
The arm band also has an option to vibrate if you are idle for any given period of time. So, according to the settings pictured, if you're sitting for longer than 15 minutes between the hours of 8AM and 5PM, it will buzz. Any kind of activity will do – walking to the water cooler, walking to check the mailbox, walking the dog, going to the potty… anything. Just don't idle for longer than 15 minutes!
And, speaking of vibrate… the UP band also acts as an alarm. At whatever time you designate and during the lightest part of your sleep cycle, the band will begin to vibrate, silently waking you up and expecting you to get up and go on about your day. Needless to say, those of us with partners who wake up at different times of day that us… we might like this.
The data also calculates your steps and [assumed] distance, as pictured below.
When your day is done, after you plug in and sync, you can see all the details of your day. The lines at the top show you what times of day you were most active, or not active at all.
Entering exercise is also a breeze.
After you enter it and go back to the screen, it tells you more details:
I'm looking forward to seeing what I can learn about myself with all this data collecting.
Next up on this week's "7 Days" review… what's wrong with the Jawbone UP?
Check out the other parts of this review: