In the past I've shared a few of my more random vinaigrette recipes, back when I was first experimenting with making them… and, even I can admit, they weren't pretty, and they certainly weren't perfect. Vinaigrettes are oftentimes bitter, oftentimes sour, and oftentimes insufferable regardless of what you put in it… but you'll suffer through it because some days, you just don't wanna eat dry food. I totally get it.
This is why I'm going to give you the simple equation to help you make amazing vinaigrettes time and time again. Because sometimes, you need a little variety, and having a formula for making sauces instead of simply one recipe is the best way to ensure that you never get bored.
Vinaigrettes have a few simple ingredients: an oil, an acidic substance, and salt. That's pretty much it. Usually, the ratio is 3 parts of oil for every one part of your acidic substance, but that's a little too much for me. I actually do it in reverse – 3 parts acid to one part oil, and a wee bit of honey if it's too bitter. Whisk everything together and baby, it's magic. Ta da!
Of course, we can always get a little fancier with it, though.
Oils: The thing about oils is that you have a bajillion options. Of course you've got your olive oil, or your organic canola oil… but have you ever considered venturing outward? La Tourangelle sells my favorite oils on Amazon – and, if you buy them using my link, I get a penny or two! – and, if that gets a little pricey, you can always use a simple light oil and whisk in some of your favorite spices and your favorite herbs, too.
Acidic source: For me, I'm most likely to stick to my apple cider vinegar, simply because I appreciate the taste and the benefits… but that doesn't mean I don't venture outwards. An acidic substance can be vinegar (like red wine vinegar, white wine vinegar, , but it can also be citrus juice – grapefruit, orange, lemon, lime, whatever! – or soy sauce or mustard… whatever you fancy. It just has to adequately cut your oil.
Seeds: I'm someone who will sneak some seeds into my vinaigrettes, just because. Sesame seeds, flax seeds, chia seeds, whatever I can get in there, I'll add it. Flax seeds are full of omega-3 fatty acids, something that many people are lacking in thanks to processed food, and are full of fiber, so that's my go-to. Hitting up the bulk food section of your local Whole Foods will net you a pound of flax seed for under $4. I bought a few pounds when they went on sale a while back, stored them in an air-tight container, and haven't looked back.
Fruits and veggies: Anything finely minced will work wonderfully in a vinaigrette. Berries, onions, garlic – not all together, of course! well, maybe… – all can go well if ran through a food processor, taken over a grater or zester, or simply chopped very finely.
In other words, this is a door left wide open for creativity. The possibilities are endless. And, to help you get started, I'm going to share with you the vinaigrette I just made the other day, my sesame ginger vinaigrette!
Here are my ingredients for this vinaigrette: apple cider vinegar, almond oil, wildflower honey, black sesame seeds, and ginger.
Pour two tablespoons of oil into 6 tablespoons of the apple cider vinegar. Add two tablespoons of honey, as well. That might seem excessive, but considering the amount of ginger we're putting in here, you might realize that you need it. Besides – you can simply dilute it by adding more vinegar if it becomes too much for you, or you can feel free to skip the honey altogether.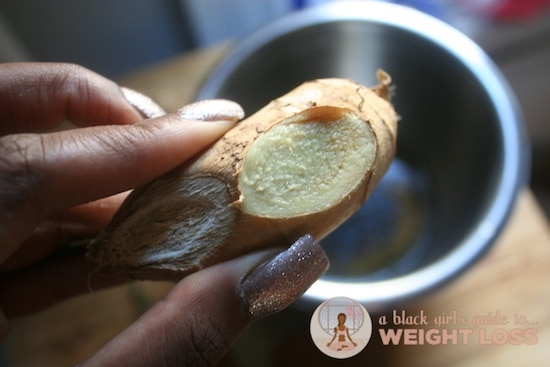 Take your ginger, run it across a zester until you've got 2 teaspoons of it, and toss your minced ginger in the bowl. Add a little under two tablespoons of sesame seeds.
Whisk it all together. (If you're packing a salad for lunch and want to keep your vinaigrette separate, consider putting it in a mason jar until you're ready to eat. This way, you can simply shake the mason jar to mix your vinaigrette when it's time to dig in!)
Here's your whisked dressing… and here's your salad.
Toss your salad in it, and mmmmm. Tastes like magic.