Hi.
I'm cheap. Notoriously so. As much as I love posting my new shoes on Instagram, the truth of the matter is that it's a rare day when I actually pay full price for a shoe.
Any shoe.
I want what I want, and I want it at less than retail price. It's kind of the motto around here.
But now, I want to pass this onward to you, dear friend, because I know you'd like to save money too. That initial jump into healthy eating, that gym membership, the at-home workout equipment, it's pricey! We should be pinching our pennies where we can. And I've got lots of tips – some old, some new – that will help you get what you need to get where you're going!
Enough talk! On with the tips!
Search the web first.
Say you're in the workout section of your favorite store, and you've spotted a super-cute top. Your eyes widen, you inhale excitedly, and you reach out for your new-found prize.
*record scratch*
Sis, no.
Before you grab that top, grab that price tag. How much is that top? What's the price? What's the name of the shirt? Plug a few key words to identify the top into Google Shopping, and….
Voila. A range of prices starting anywhere from $20 all the way up to $50. Did I just save you almost $25? I think I did.
Stores connect their databases to Google, so that when people search for the item they desire, Google can essentially search the store's inventory and deliver to you a listing by price, by size, by color, style, how close the store is to you, by choice of store, whatever.
This… is comparison shopping on steroids. Take advantage!
Search the store's website.
I'm not going to talk about the day that I walked into a particular brand's store, picked out a pair of shoes, searched that same store's website for the shoes, found the shoes available for $40 cheaper on their website, showed the price and the website to the store's manager, and was told "I know, it's crazy, but we can't honor that price here."
By all means, go to the store! Check out the products, try them on, test them out. Go to the store's website on your smartphone, and check the price online.
Did I almost just save you another $40? I think so.
And, that reminds me of my next tip….
Have favorite brands? Favorite stores? Subscribe to their e-mail lists.
You'll get alerts for the best sales, secret discounts for "VIP" members, sales where e-mail subscribers get access first (which is helpful for those of us who wear highly-coveted sizes), and sometimes even a discount code for subscribing, much like what I received here when I subscribed for emails from Adidas.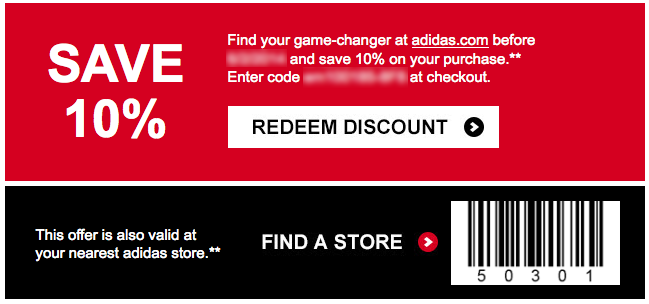 That 10% was nice, but it was even better when it was combined with the 50% off summer blowout sale they had going on. I was able to snag a super fly Stella McCartney jacket, retailing for $150, for $80 after discounts and promo codes. Talk about awesome.
I mean…it's a common occurrence. Everyone's doing it. If you've been subscribed to a favorite brand for a long time….try unsubscribing and re-subscribing, juuuuuust to see what kind of deals the newbies are getting.
I don't even know how much money I just saved you.
Be an organized shopper.
Create a folder just for storing and filtering e-mails from brands you love, and when you visit the stores, refresh yourself on who's having what kinds of sales in what sections of the store. In other words, don't delete – archive!
If Macy's is having a sale on everything in the store, then that includes their athleticwear and sneakers! If you dart in to Old Navy and decide to pick up a new pair of capris, skim your e-mail for a minute! You might find a discount code that gives you an extra boost in saving money!
Check RetailMeNot before you buy.
Discount codes that are brand new, discount codes that are old but haven't expired yet, and even – as pictured below – exclusive discount codes are often available at the deal-hunters dream, RetailMeNot.com, a repository for steals and deals.
RetailMeNot crowdsources tips on your favorite brands – who's having the best sale, who just sent out a coupon code, and who's finally offering up free shipping – and loyalists faithfully keep the site updated and current. Activewear brands are also jumping on the bandwagon, offering the site exclusive discount codes to attract customers.
Wait for your beloved item to hit the clearance rack!
I know how painful this can be…. but. Sometimes, you can wait. And waiting pays off.
When Lululemon finally released their Studio Pant II in a lined version in white, I jumped over the moon.
I also waited….until they hit the clearance/final sale rack. (Oh, you didn't know Lulu had that?)
Sure enough, my dream pant became available… at a little over 40% off!
Patience, grasshopper. It pays off!
Outlet stores!
So, outlet stores have a bit of a bad rap. Theoretically speaking, an outlet store is where items that haven't sold at their regular shops go to be sold at a discount. They get a bad rap because oftentimes, the products found at outlets are of poorer quality than what is standard for that particular brand, and instead of being upfront about that – or, simply not selling the item at all – brands have instead sold these items as "75% off!!!!111" C'mon, man – you know this isn't even worth the 25% of the price you're charging me for it.
Alas, there is still some good to be had at outlet stores. Your best bet is to make a day trip of it – visit an outlet mall and visit stores for everything you need, and you're guaranteed to find a solid deal or three. When Eddy and I hit up the Woodbury Commons Outlet Mall in Upstate New York (well, I'm in Brooklyn so everything north of, say, 125th is "upstate" to me), we stopped by the Reebok store, the Under Armour store, the Adidas store, the Nike Factory Outlet, the Puma store, The Children's Place Outlet, Kate Spade, Barney's, Lululemon, Neiman Marcus Last Call, Timberland, Tory Burch, and Saucony.  We got birthday gifts for friends and family, we got a season's worth of clothes for Mini-me, and I got a few pairs of the workout shoe I'm crushing on right now, my Nike Flyknit Lunar Ones.
With outlet malls, you have to be a conscious consumer – check the product out thoroughly. Are there snags? Tears? Visible gluing? Most importantly, do you care? Depending on the product, I'll gladly take a 70% discount if it means there's visible glue on my shoe.
Subscribe!
Not to me, but yes, subscribe to me.
Websites like Fabletics and Ellie offer fantastic deals where you can subscribe and receive a new workout outfit every month, for less than $50 per month. And, I've had the privilege of testing out Fabletics' gear myself…
…not only is it cute and stylish, but it's functional. The pants were great for my curvy figure, and the sports bra was perfect for low-impact training. For someone who likes the idea of receiving a full outfit each month – maybe for inspiration, motivational fashionable reminders? – for as little as $50, it's worth checking out, for sure.
Shop the discount stores!
The Burlington Coat Factories, the TJ Maxxes, Marshall's, Century 21s, and Rosses of the world exist for a reason – they're where other stores send the product they couldn't sell, to make way for more current stuff. These stores are for the bargain hunters, those of us who don't mind getting something out-of-season (which, really, I mean… come on) and will shuffle through the racks to find that one dream piece. The downside is that their inventory is unpredictable; the upside is that whenever you go, you're bound to find a price and a fit that suits you!
These stores sell workout clothes as well as activewear shoes and exercise equipment, so make sure you check all your options when you stop by.
Looking for other stores with great deals on activewear?
That can't be all the tips out there!
Who's got extra tips to keep the #bgg2wlarmy getting fit and looking good out there? Share 'em in the comments!
And, if you like this post and want to see more, subscribe to receive BGG2WL in your inbox! Twice a week e-mails updating you on everything you might've missed on the blog!