There's a picture, from last week's unfortunate events, of the police halting marathoners in the middle of their race in order to deliver the bad news. You can see a few people laid out on the sidewalk, a few are covering their mouths, and there are more than a few somber faces.
Much like last year's New York Marathon being cancelled due to Hurricane Sandy at the last minute, it's really hard to train for something with the kind of dedication it takes to complete a marathon, only to have that opportunity snatched out from under you for reasons you can't control. It's hard, and it stinks. I couldn't relate because I'm not at the point where I can do 26.2, but I can definitely understand.
That's why, when I heard about what RunNow – an organization comprised of leaders in the endurance running industry like Brooks, MapMyFitness, the Independent Running Retailer Association, and the US Road Sports and Entertainment Group – was seeking to do, I couldn't wait to spread the word.
Taken directly from the press release:
In the wake of the tragedy on Patriots Day 2013, Run Now assembles running industry partners and competitors alike to call on runners at every level to recommit to the spirit of running and to be inspired to donate, participate and share experiences. The Run Now initial launch partners include Competitor Group, U.S. Road Sports & Entertainment Group, Brooks Running Company, MapMyFitness, Transamerica Life Insurance Company, Running Specialty Group and the Independent Running Retailers Association (IRRA).

The Run Now coalition has launched RunNow.com.  The website will become the hub of information on volunteering, participating and sharing all of the activities that demonstrate the solidarity of the running community.

Other components of the movement include:

Pledging free race entries to 4,500 Boston Marathon participants diverted prior to the finish.
Raising $1 million for The One Fund Boston by National Running Day on June 5, 2013.
Offering more than 100,000 'Run Now – Boston 04.15.2013' tribute wristbands to runners at upcoming marathons and at specialty running retailers across the country. The bracelets will be sold for $2, with 100% of the proceeds donated to The One Fund Boston for those affected by the tragedy.
A lot of us have been affected by what happened in Boston in different ways and, as runners, have been looking for ways to support. I knew that I wanted to donate blood while I was out there, but when a city says "lockdown," it pretty much means lock down.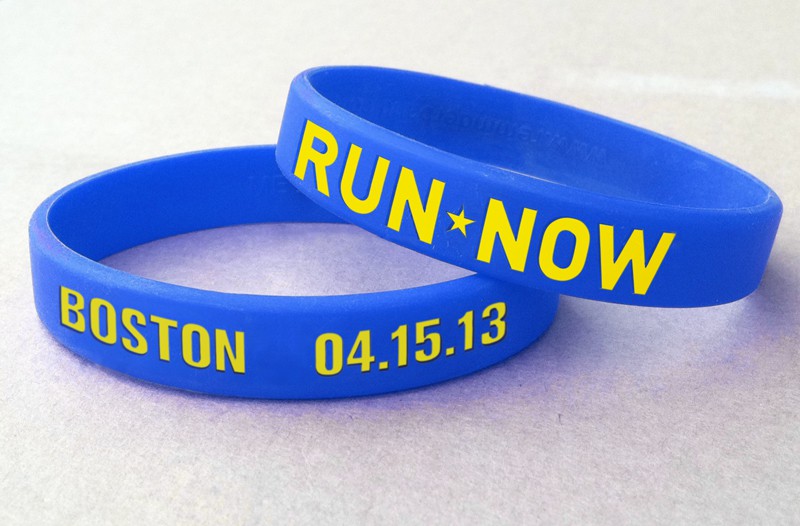 The bands are, as mentioned, only $2, and are available on the official RunNow website. Do what you can to give those runners another shot at earning their medals. Maybe even train for an endurance race, yourself, and really live up to the meaning of #RunNow.
I'll tip out on the words of Scott Dickey, CEO of CGI:
"As runners ourselves, we share in a community that is resilient, passionate, strong, united and energized, even at a time of such unimaginable tragedy. The overwhelming outcry at the tragedy among runners inspired the industry to form this coalition. […] This week, terrorists attacked runners and in doing so attacked our running community.  Run Now shows that our community and the running spirit is stronger than any terrorists' evil intentions.  We are determined to maintain the enduring and celebratory achievement of participating in running events.  If there was ever a time to run, Run Now."
Indeed.