When Harmony Books reached out to me, asking me to review their latest offering, The Prime, a book by Dr. Kulreet Chaudhary, I was intrigued. "Prepare and Repair Your Body for Spontaneous Weight Loss," reads the title. "Stop dieting backwards." reads the sides. Who wouldn't be curious?
Chaudhary, a neurologist and director of Wellspring Health at Scripps Memorial Hospital, came to the conclusion that the diet she put her patients on—patients who were seeing her for brain-related care like ALS—had the added side effect of weight loss. Though she has done game-changing work in stem cell therapies and ALS care, she has also co-founded Habit Change, a method that helps coach people through changing behaviors that result in success.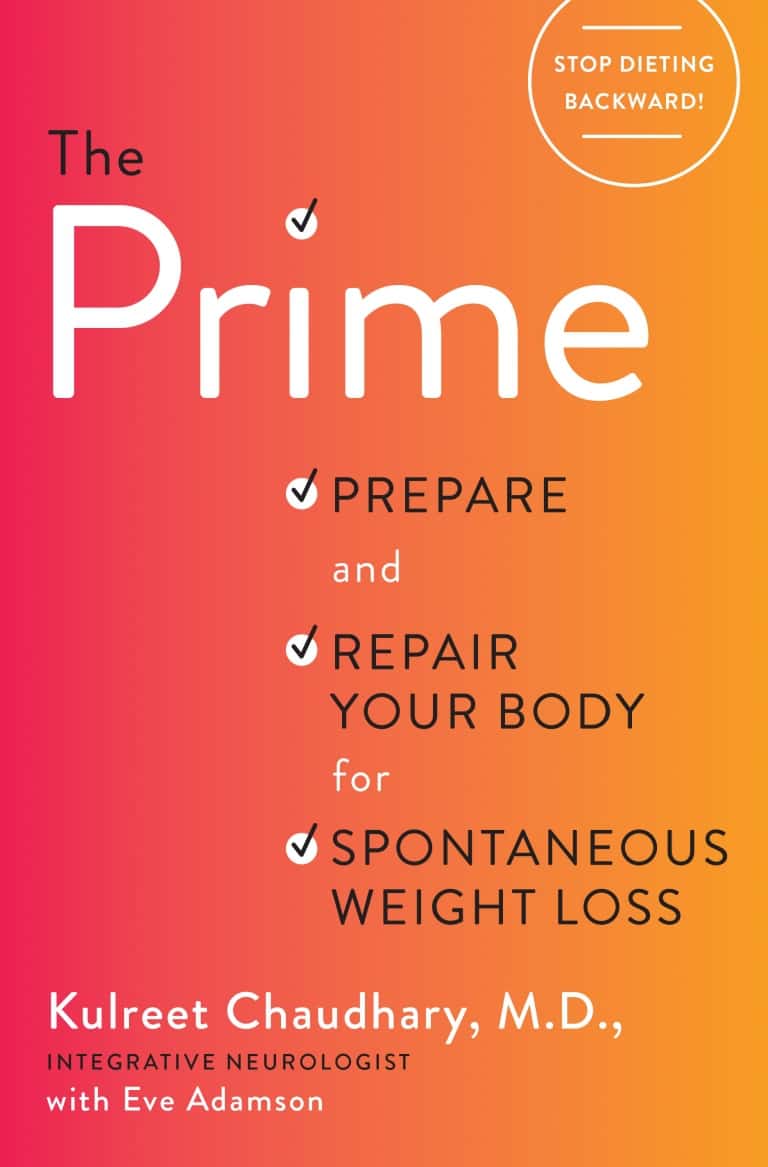 The overwhelming majority of The Prime mirrors the way I think and act in regard to weight loss, and also explains the "spontaneous" angle in the title: when you eat in a way that promotes improved internal health—reducing blood pressure, potentially eradicating type 2 diabetes, increasing unadulterated nutrients in our bodies—weight loss just happens. In many cases, it can happen fast.
Chaudhary covers food addiction and the neurochemical reactions our body has when you consume certain foods, and does so by breaking down piece by piece the way our minds react to the things we eat, and how that impacts our ability to develop things like the "will power" to say no to things we don't want as well as the habits that allow us to say "yes" to what's good for us… even when it might not be the thing we want.
Prime also goes in-depth in discussing the digestive system, gut health, and other internal-organ related issues that impact wellness and, in many cases, weight loss. You can even take a Gut IQ quick test to help you determine what's going on with your insides.
The Prime is not a weight loss book, that's for sure. It talks about weight loss as a side effect of these habits that ensure improved health, but in terms of telling you everything you want to know about "How to Shed 7 Pounds in 7 Hours," it's not going to do that for you. More importantly, much of the physical fitness aspects of weight loss are virtually absent here. However, this is the book you want to read if you're interested in the perspective of a brain specialist who seems to have unintentionally stumbled on the path to both improved internal health as well as weight loss.
I'm going back through this book with a highlighter and a notepad. The verdict: it's not a definitive read, but it's thorough enough to leave even the most well-read of us feeling like we've gathered something new.
Have you read The Prime? What do you think?
Disclosure: This post was sponsored by Harmony Books, but the thoughts and opinions contained herein are allllllllllll mine. : )
About The Prime
Integrative neurologist Dr. Kulreet Chaudhary discovered a beautiful side effect to the eating and lifestyle tools she gave her brain patients–shedding excess pounds. In this, her first book, she shows readers that weight gain is a result of the body being in a toxic, inflammatory state. If your body is not prepared or 'primed' for weight loss, you will fight an uphill biochemical battle, and the odds of succeeding are slim. So she's reverse engineered our way of eating, so we can stop dieting backward and start succeeding instead.
Using a blend of cutting-edge science and ancient wisdom, Dr. Chaudhary has crafted a plan like no other. In it, she shares:
The importance of neuroadaptation, food addiction, and the brain (or, why it's not your fault that dieting has been so hard in the past!)
Why it's not what you eat, but what you digest
How to determine if you have a Leaky Brain—and what The Prime can do about it (hint: everything)
The 4 Stages of the Prime

Activate a Biochemical Shift
Crush Cravings (No Willpower Required)
Ignite Energy and Fat
Biohack Your Lifestyle Habits
Check out Dr. Chaudhary's work at www.DrKulreetChaudhary.com!