I get lots of questions about why I'm such a huge stickler for chemical-free foods and why it matters… and instead of writing 3,500 words every time I'm asked, I wrote one 3,500-word blog post.
Surprise, surprise, no one was reading all that.
That's okay. I'm breaking it up into a few parts that everyone will be able to digest slowly and properly (pun intended), and hopefully we can explore why healthier, cleaner, more chemical-free food choices are so important. It is critical that any person embarking on a clean eating journey have an understanding of why the journey is so vital to their success in losing weight.
Consider this part III of the series.
So, if the foods aren't nutritionally deficient, why is this a problem?
Well, how much credit do you give food science? The rule is simply that the foods cannot be deficient in nutrients that science recognizes as valuable. What about what science hasn't spotted yet? What about all these hyphenated chemicals that science hasn't identified (or is prevented from identifying) as harmful to our health?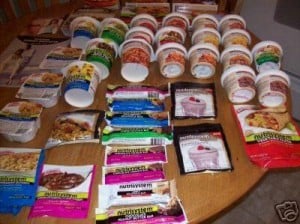 And before you call me a conspiracy theorist, consider this: it took science decades to recognize that trans-fats – once a massive part of margarine and other major foods – were hazardous to our health. Believe it or not, the government still allows trans-fats in foods, and actually allows food manufacturers to lie about how much trans-fats are in their foods. (More on that later.)
What else, in these foods, is doing us in? Science doesn't know yet. And really, since most of our food science studies are funded by the very industry they affect… do you genuinely expect science to find out? I'm not telling you that they'd intentionally fudge numbers to present favorable results – trying to remain unbiased, here – but I am telling you it's easy to divert funds elsewhere… as in, another study. Maybe even… a study attempting to debunk something claiming their products are harmful.
That's not the conspiracy theorist in me. That's just smart business on their part… regardless of what it does to the consumer. Keep the consumer far enough away from the research, and they'll never know the downfall of buying my product. It just happens that way.
So since this is all cyclical, let's go back to that availability of food thing. Now, all this food (food, mind you, that seeks to NOT be nutritionally deficient although it admits that it is) is available to our families. We, knowing what it's like to have to worry about food not being available, begin to indulge. Factories – and factory jobs – are springing up because industries are blossoming. Longer work hours, both adults in the household are now working, and all this super convenient food at hand. We're eating what we can, when we can, and eating a lot of it… since we're enjoying the ability to eat at our discretion, not at the discretion of a ration.
Keep in mind, also, at this time… a new generation of children are being born under this new understanding of food. Family tradition might lend to certain dishes being made a certain way, but lots of dishes are being replaced by the magic elixir in the box. Some of us have that Grandma who insists on cooking everything from scratch. We tend to write her off as crazy or paranoid because "Times have changed" and "No one has time for all that cooking," or maybe because "This is the [insert decade]s, Nana, we don't live in the kitchen the way you used to!" Things that are all true, but come with consequences.
I asked you, dear reader, to keep in mind the point I made earlier about hyphenated chemical ingredients in our food, right? I hope you did. The interesting loophole in the FDA's policy about imitation foods is that there's very little limit to what can now be put INTO food. That's an important point.
You know how, if you leave food sitting out, it will attract flies? Why? Because flies and rodents are attracted to the same things that our bodies are attracted to in food – nutrients. Ever notice that with ALL the food in a supermarket, there's rarely any ants or bugs in the aisles, but you have to swat them away from the tomatoes or kiwi in the produce area? That's not because every area in the grocery store – except the produce – is sprayed down. I can only offer theory as to why that is. For starters, the processed foods have to be processed to maintain shelf life. They have to be able to handle being transported to the facility. They have to be able to withstand sitting on a shelf until purchased. They have to be able to withstand sitting in your cabinets until you cook them.
Can you do that with your home made cooking? I doubt it.
Here's another question: What do you think they're putting in these processed foods to ward off insects and rodents?
Last question: Do you think it's a good idea to ingest the same chemicals that are put in food… food that flies don't even want? The same chemicals that prevent flies from desiring our food, are the same chemicals we're ingesting when we eat this stuff anyway. How healthy can that be? Nothing in the world can debunk what feels like logic to me.
Stay tuned for the conclusion of "The Problem With Processed Food!"