I make my ketchup from scratch, specifically because I want to avoid as much outside crap as possible in my food… and if I can make my own ketchup, why not?
It's very simple.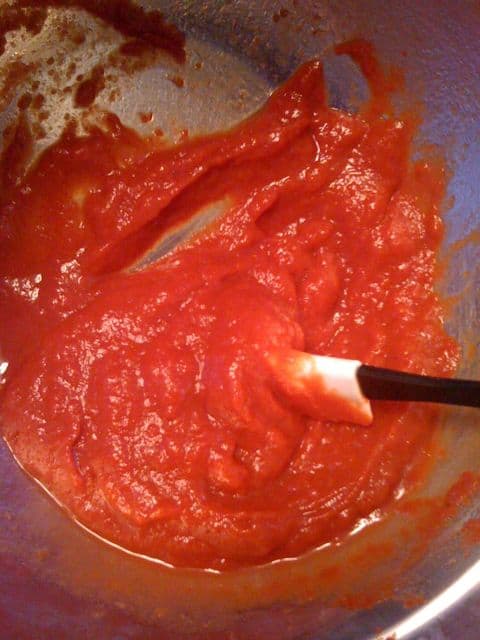 1 16oz jar of tomato paste (it is strongly recommended that you use jarred paste over canned)
tap water
2 tbsp white vinegar (feel free to try it with apple cider or red wine vinegar, also)
1/2 mango (if you don't want to use mango, try a fourth of a cup of brown sugar)
1/4 tsp salt
1/4 tsp ground mustard
1/4 tsp of garlic
a pinch of a pinch of cloves
a pinch of a pinch of paprika
Your mango should already have the skin peeled and the stone removed.
Toss everything except your brown sugar or mango into a bowl, then, before you throw away your empty paste container, fill it with water and slowly mix up your new ketchup. Only add your water a little bit at a time, until your ketchup is the consistency that you desire. You want a thick, rich ketchup with a nice tomato flavor. If you think you need sweet, that's where the mango comes in.
I am not a giant fan of "sweet." If I am making "sweet," it is because I'm cooking for someone else, and even then I go out of my way to not use sugar. My rule of thumb is "let your sweet come with a purpose." If I need a sweet flavor for something, I will go out of my way to not use granulated sugar (table sugar) for any of it. Hence… why I'm throwing half a mango in a blender and using the puree to sweeten my ketchup when I want it. At least I'm adding some extra vitamins to my blend.
You make ketchup by taste. So if you think it needs additional garlic, add it a shake or two at a time. If you want more of that rish flavor that cloves add, then go for it a half-a-shake at a time. You shouldn't need much in the way of vinegar or mustard, but if you want to try it.. fine. Just make sure that you end up with a ketchup that you love that will help you make your clean eating that much easier!