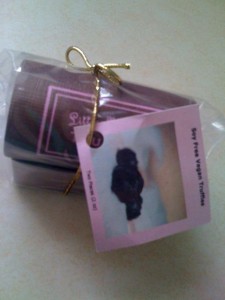 I'm someone who loves chocolate. I mean, looooves chocolate. Delicious, heavenly goodness. Yes. I love it. If you catch me at the right moment, you might catch me talking to my chocolate. "I hate that I have to do this to you, but… [insert gobbling sound] just know that I love you for everything you've given me.."
It's that deep.
So for me, the supermarket checkout lanes were more fun than the actual grocery store. Why? Because the game was "avoid swiping the entire chocolate rack into your cart with one hand." I'm ashamed to tell you that, some days, I lost. [insert big frown here]
During the down time when I started to let go of processed foods, I had a period where I was looking up everything, much to my detriment. The more I learned, the angrier I became and the more I wound up giving up.
Unfortunately… one day, I just so happened to turn over a chocolate bar… and much to my disappointment, I saw the same science lab I'd been seeing on the rest of my food.
Imagine the look of shock and horror across my face. I don't even think I remember what was more frustrating – the fact that my chocolate wasn't, in fact, chocolate… or the fact that I couldn't just allow myself to remain in blissful ignorance. I just had to turn over that darn wrapper and see what the hell I was eating. It wasn't pretty.
It was also enough for me to give up chocolate completely. It was like nothing was safe! If I couldn't understand the label, I couldn't do it. It had to go.
So… fast forward. I happen across a young woman at the farmer's market, who appears to be a chocolatier. She's nice, she's sweet, she's… selling organic dark chocolate?! Say what? Not only does she have organic dark chocolate truffles, but she has vegan organic dark chocolate truffles? Oh, help me.
At this point, it's been almost a year since I've last had chocolate. (I wasn't playing when I said I'd given up.) I bit into her truffle, and it was like the clouds opened up… a choir appeared behind me singing the Hallelujah chorus… and a ray of sunlight began to beam on me alone. I could've floated! Immediately, I asked her what comes in one package.
"In each individually wrapped package, you get two truffles."
"Okay," as a grab my wallet, reaching for a couple singles. "How much?"
"Five dollars."
In my mind, the record skipped. Y'all know I'm cheap, right? TWO truffles for five dollars? I tried to not have a visible reaction on my face to her price, but I don't think I was successful, because she laughed pretty loudly at me. It's ok.. I laughed back.
"Don't worry, you're not the first to have that reaction!" she told me. I felt trapped – I wanted the chocolate, but dang – I couldn't justify paying that much for it, when I know that my former favorites are in the checkout lane for three for a dollar right now!
"I like to think of my chocolates as an indulgence — something you definitely don't do every day, but when you do do them, they're definitely worth the wait."
At this time, my daughter started asking for a piece of chocolate to taste, too, and the lady – charming as she was – went ahead and gave her a tiny piece. Since I'm a sucker for people who engage my little one, I went ahead and decided to purchase from her. But as I reached for my five, I told her, "I could see that… because I spent way more on chocolate before. If I just bought a really nice piece of chocolate every now and again instead of crap every other day, I'd still be happy… and not be broke!" and we both laughed as she handed me my purchase.
And trust me, my chcolates were undoubtedly worth it.
But that experience taught me a valuable lesson – a few valuable lessons, to be honest. First, an indulgence is an opportunity to enjoy something… not hide from the world in it. I had to realize that in my effort to abstain from the chemicals and the foods engineered to "make me enjoy, love, and want to buy more of them," I was forcing myself to stop eating my emotions. I was forcing myself to cope with my realities outside of food… because food was no longer sooooooooo satisfying to me anymore. So, even though I was afraid of what chemicals might've been in those dark chocolate truffles (she has four ingredients in her truffles and even shared the recipe with me!), it didn't matter because it had been so long since I'd tried to use food as an emtional shield.. the attempt didn't even make sense to my body anymore. Besides… the chemicals weren't there anymore. It wouldn't have worked, anyway.
Secondly, I was spending a lot of money on chocolate. A lot. Chocolate cookies, chocolate pies, chocolate bars… but the reality is, the amount of actual chocolate in them is negligible. Most of the "chocolate" that I was eating might contain just enough chocolate for the manufacturer to put "chocolate" or "cocoa powder" on the label.. but the majority of it was some strange flour/oil/"natural flavors"/corn syrup combination. So my "indulgence" was, really, just me binging on fake chocolate flavored flour paste. My indulgence wasn't even worth the time it took to eat it.
If I spent $3 each day on chocolate – a giant chocolate bar or a big bag of little chocolate bars that couldn't even remotely compare to the two bites of chocolate I paid $5 for? Then guess what. Not only did my delicious chocolate ensure that I'd never go back to the crap chocolate, but it saved me money. Spending $5 every couple of weeks as opposed to $15 each week? C'mon. I might experience a little sticker shock, but I'm still saving lots of dough.
Lastly, it's okay to indulge. The idea is not to put myself in nutritional prison. The idea is to learn how to curb my habits and guarantee my health. So yes, that means that I have to occasionally tell myself "No, you don't need any chocolate today" or even "No, you don't need chocolate this week." If I truly think about why I "need" an indulgence, the answer (if my conscience isn't cluttered by hunger) is usually that I don't need to indulge. I don't need to indulge. I need to make sure that when I want to indulge, it's not for the wrong reasons. I need to make sure that both my indulgence and how often I indulge are both in check – make sure they won't prevent me from reaching or maintaining my goals.
I always knew chocolate would do me some good… I just never thought it'd be this much.
What are your indulgences? What tips do you have to share?
Forget all that… any good recommendations on how to enjoy chocolate? I'm kidding! (Sort of.)