So, back when Serena was slaying courts left and right earlier this summer, a few of us jumped on twitter to talk about Serena's shoe.
Namely, the fact that… there wasn't one.
Until now.
Designed with Serena's funky style in mind, we bring you…
The "Greatness" Collection, inspired by Serena Williams.
The NikeCourt Air Max 1 Ultra Women's Shoe updates the iconic shoe with marble and Nike safari prints on no-sew overlays for a premium look and feel. Featuring a quote from an all-time tennis great on the sockliner and metal lace tips inspired by her jewelry, this unique shoe offers impressive signature style.
Benefits
Synthetic leather upper with a semi-transparent, no-sew skin for a plush fit and premium style
Leather overlays for support and durability
Phylon midsole with visible Air-Sole unit in the heel for lightweight cushioning
Minimal rubber on the heel and toe of the outsole for lightweight, durable traction
Forefoot flex grooves for enhanced flexibility and comfort
Product Details
Left sockliner with print detail: "You are STRONG, POWERFUL, and BEAUTIFUL!"
Includes two sets of waxed laces, interchangeable metal screw tips and lace dubrets
Mesh drawstring cinch sack printed with a matching marble graphic and leather patch
About the Collection
NikeCourt presents a collection that celebrates the latest chapter of a phenomenal tennis career. Footwear and apparel with bold prints, luxurious materials and finessed details embody the strength, power and beauty of a tennis icon—on and off the court.
As well as this off-court Air Max 1 Ultra for style, the collection also contains an off-court casual Roshe LD:
…and Serena's signature on-court shoe, the NikeCourt Flare:
Nike also will be rolling out two dresses and a white bomber jacket, gear that showcases Serena's on-court style and fashion sense:
When asked about the idea to title the line "Greatness," Serena responded,
"They decided to call it Greatness and I was like, okay cool I love that […] When you think of greatness, you think of someone that's great, but also a great person has to be positive and influence other people to be great," she told Yahoo Style. "That's what it's all about — you can be powerful, strong, and beautiful all at the same time. It's for everyone." [source]
That message is reinforced inside of each product, where you'll see positive messages like the following: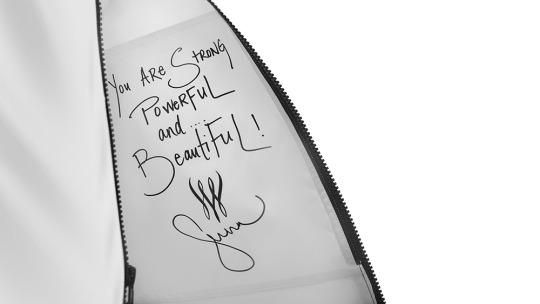 Here. Please. Take my money.
All of it.
Check out the line here, and let me know: will you be buying a piece of Greatness this fall?