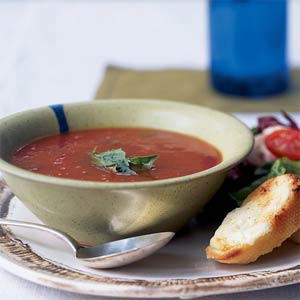 2  teaspoons  olive oil
3  garlic cloves, minced
3  cups chicken broth
3/4  teaspoon  salt
8 cups diced tomatoes, undrained
2  cups  fresh basil leaves, thinly sliced
Basil leaves (optional)
Heat oil in a large saucepan over medium heat. Add garlic; cook 30 seconds, stirring constantly. Stir in the broth, salt, and tomatoes; bring to a boil. Reduce heat; simmer 20 minutes. Stir in basil.
Place half of the soup in a blender; process until smooth. Pour pureed soup into a bowl, and repeat procedure with remaining soup. Garnish with basil leaves, if desired.