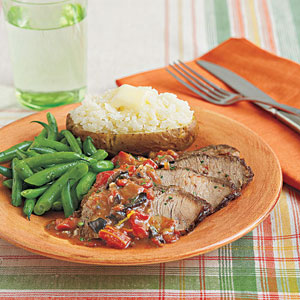 2 cups diced tomatoes with juice
1/2 cup dry red wine
5 cloves garlic, chopped
1/3 cup kalamata or other black olives, pitted and chopped
1/2 teaspoon dried rosemary
1 2 1/2-lb. piece flat-cut brisket, fat trimmed off
Salt and pepper
1 tablespoon finely chopped fresh parsley
Place tomatoes, wine, garlic, olives and rosemary in slow cooker and stir to combine. Sprinkle meat with 1 1/2 tsp. salt and pepper to taste. Place brisket on top of tomato mixture and spoon half of tomato mixture over meat to cover. Cover slow cooker and cook on high until meat is fork-tender, 5 to 6 hours.
Carefully transfer brisket to a cutting board, tent with foil and let stand for 10 minutes. Skim excess fat from sauce and season with salt and pepper. Slice brisket against grain and transfer to a serving platter. Spoon some sauce over meat and sprinkle with parsley. Serve brisket with remaining sauce on side.