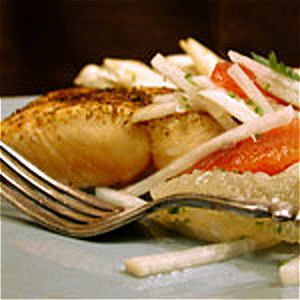 1 tablespoon minced red onion
2 tablespoons freshly squeezed lime juice
2 teaspoons honey
2 teaspoons extra-virgin olive oil, plus more as needed
1/2 teaspoon kosher salt, plus more for fish
1 grapefruit
2 blood oranges
1 jalapeno chile, stemmed, seeded, and minced
1/4 medium jicama, peeled and julienned, about 1 1/4 cups
1/2 cup fresh coriander leaves (cilantro), coarsely chopped
4 (6-ounce) salmon fillets
1/4 teaspoon chili powder
8 corn tortillas, wrapped in paper towels and heated on full power until pliable and hot, for 30 seconds
Preheat the broiler to high. Soak onion in a bowl of very cold water.
In a medium bowl, whisk together the lime juice, honey, 2 teaspoons of oil, and 1/2 teaspoon of salt.
Trim the top and bottom off the grapefruit to expose the inner fruit. Following the curve of the fruit cut off the skin and white pith. Cut the segments free from the membrane and add to the dressing. Repeat with the oranges. (For help with this, see our Video demo of segmenting an orange.) Add the jalapeno, jicama, and fresh coriander to the citrus mixture. Drain the onions and stir to combine evenly.
Position a broiler pan about 6 inches from the broiler and preheat. Lightly brush the salmon with the olive oil. Sprinkle top of the fish with the chili powder and season with salt, to taste. Carefully lay fish, skin-side down, on the hot broiler pan. Broil the fish until just firm and brown, about 7 minutes. Remove pan from the broiler; set the salmon aside on the hot pan to finish cooking, about 5 minutes more.
Divide the fish among plates and serve with the salsa and tortillas.
Cook's Note: Our favorite way to warm tortillas is in the microwave. Wrap the tortillas in paper towels and heat on full power until pliable and hot, about 30 seconds.