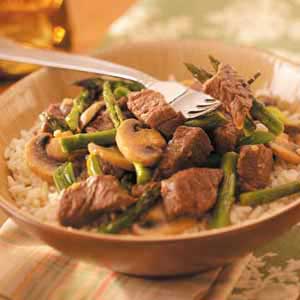 1 pound beef tenderloin roast, cubed
1 green onion, sliced
2 garlic cloves, minced
1/2 teaspoon salt
1/4 teaspoon pepper
1 tablespoon canola oil
1 pound fresh asparagus, trimmed and cut into 2-inch pieces
1/2 pound sliced fresh mushrooms
1/4 cup butter, cubed
1 tablespoon soy sauce
1-1/2 teaspoons lemon juice
Hot cooked rice
In a wok or large skillet, stir-fry the beef, onion, salt and pepper in oil for 3-5 minutes. Add garlic; cook 1 minute longer. Remove and keep warm.
In the same pan, stir-fry asparagus and mushrooms in butter until asparagus is tender. Return beef mixture to the pan. Stir in soy sauce and lemon juice; heat through. Serve with rice.