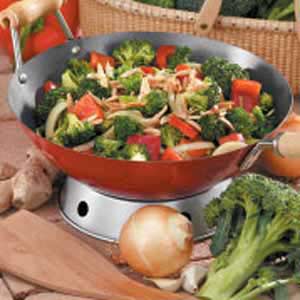 1 teaspoon cornstarch
1 teaspoon sugar
3 tablespoons cold water
2 tablespoons reduced-sodium soy sauce
1 teaspoon sesame oil
4 cups fresh broccoli florets
2 tablespoons canola oil
1 large sweet red pepper, cut into 1-inch chunks
1 small onion, cut into thin wedges
2 garlic cloves, minced
1 teaspoon fresh ginger
1/4 cup slivered almonds, toasted
In a small bowl, combine the cornstarch and sugar. Stir in the water, soy sauce and sesame oil until smooth; set aside.
In a large nonstick wok or skillet, stir-fry broccoli in hot oil for 3 minutes. Add the pepper, onion, garlic and ginger; stir-fry for 2 minutes. Reduce heat; stir the soy sauce mixture. Stir into vegetables along with nuts. Cook and stir for 2 minutes or until thickened.