Thanks to #Runtober, I've been pretty consistently avoiding any ridiculously heavy lifting so that I can be un-sore enough to complete my runs without using "but OMG I'm so soooooore" as an excuse to cut myself short.
Clearly, I was going to set this aside for the opportunity to workout with Under Armour (@UAWomen on twitter!) and Glam (@TheGlamNetwork) last week!
I showed up at the event, hosted at the Gansevoort in Chelsea (you can find them at @HotelGansevoort on twitter!) and made my way straight down to the spa in the lower level, only to be greeted with…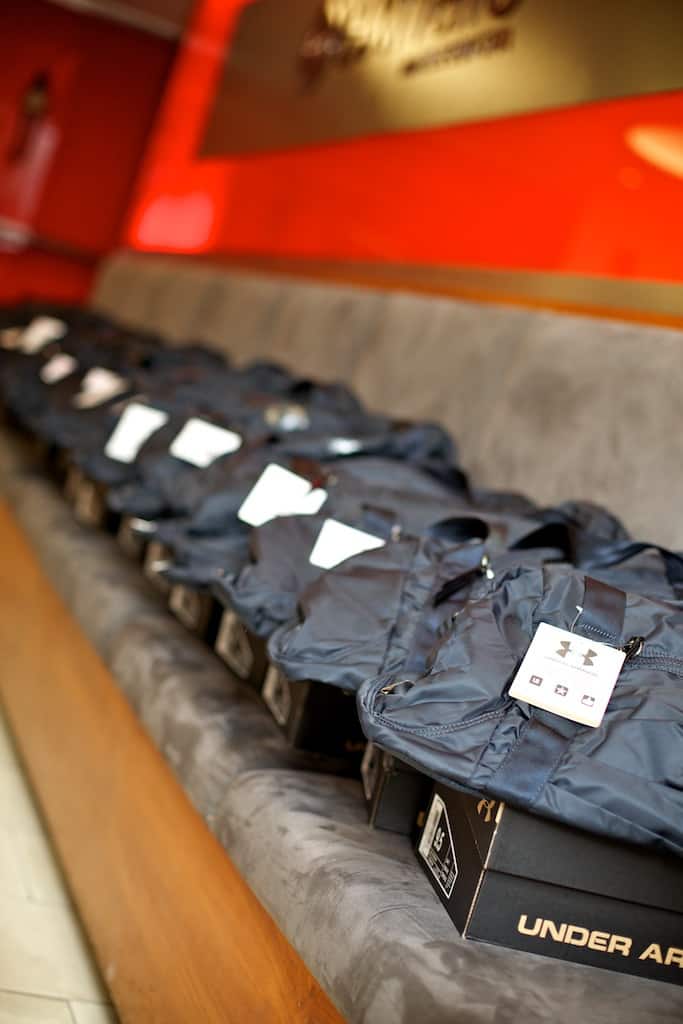 …all of our gorgeous gift bags – the UA Shatter in black…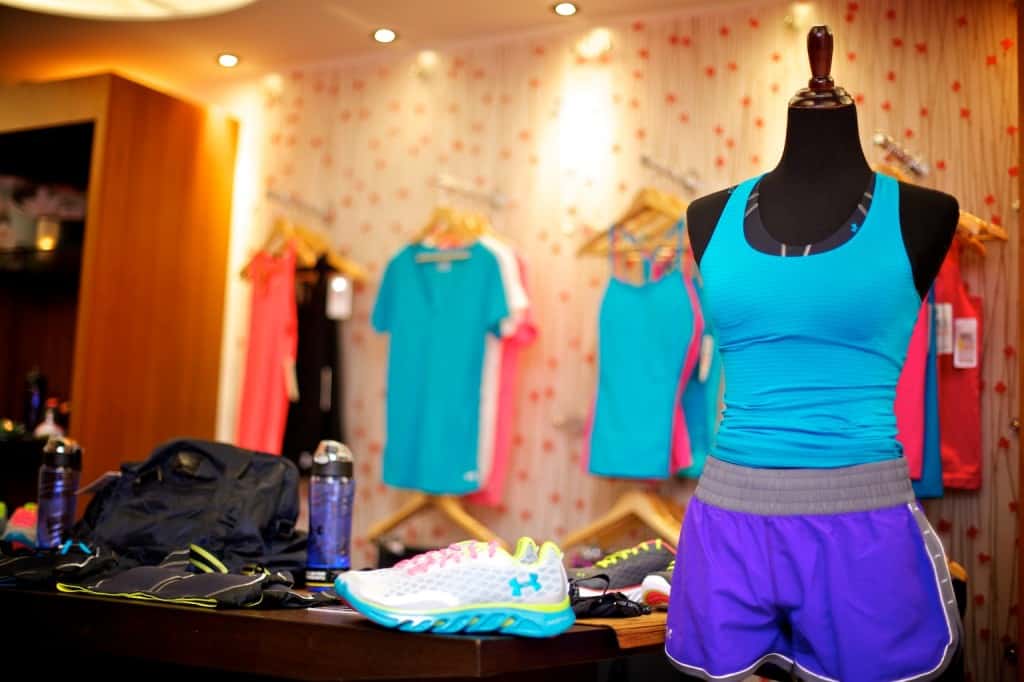 …and a full display of the items they were gifting us with. We didn't all have the same outfits – as you'll see later on – so it was neat to get to see what Under Armour's women's brand had to offer… especially since I didn't know they had all this cute and well-cut stuff.
We got to listen to Aly, who told us about their new approach to women's fitness, and she said a few things that really made me happy. The commercial, that she shared with us, actually made me a little emotional because I've been there. I've done something challenging, kicked butt at it, and then smirked at the end… ready to go at it again. I was stoked to see women of color in the commercial. I was overjoyed that they included yogis, runners, boxers, crossfitters, and everything else that we gleefully commit ourselves to every day.
…and, after that, we got our tails kicked in a Core Fusion class.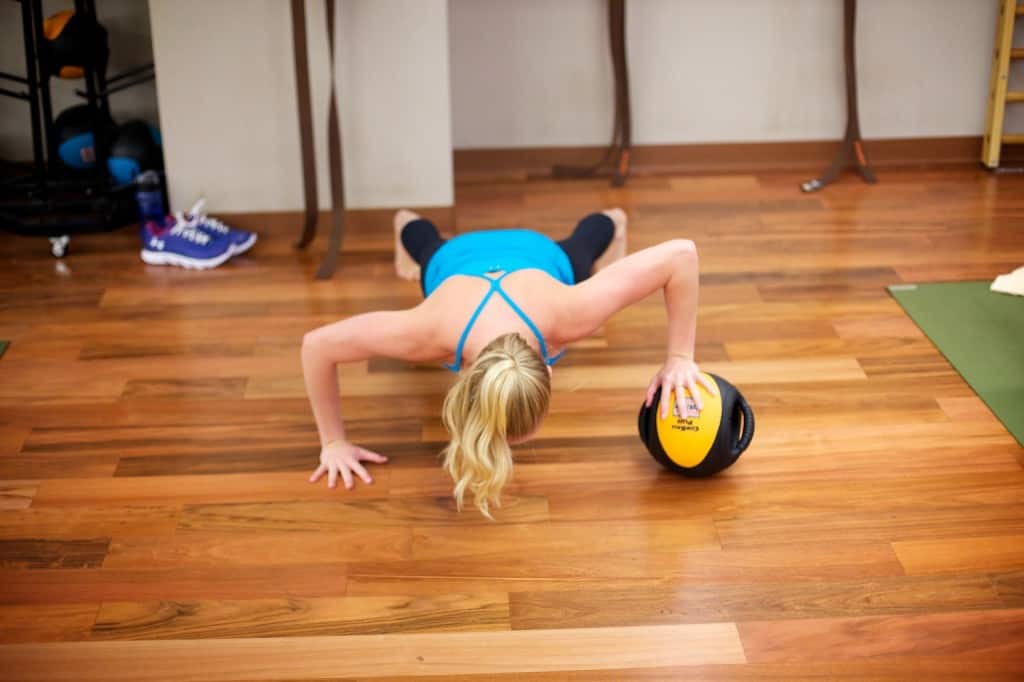 Oh, yes. Epic. Tail. Kicking. Blame this woman… because she turned a bunch of gleeful girls…
#IWill take my #ObligatorySelfPortrait right now. ROFL #whatsbeautifulinstagr.am/p/QSRG3rr50S/

— Erika Nicole Kendall (@bgg2wl) October 2, 2012
…into wilted whiners…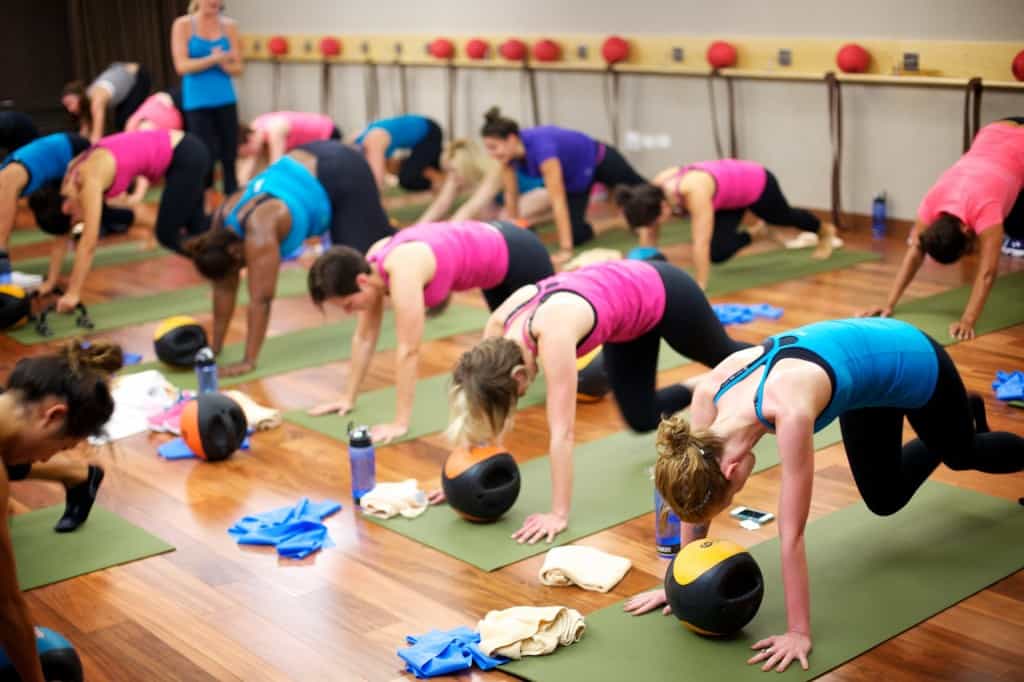 …by the end of that class, begging and pleading, wondering when in the world it'd all be over! Even the most fit of us were shaking by the end… have you ever done burpees with a medicine ball? Your arms would be shaking too!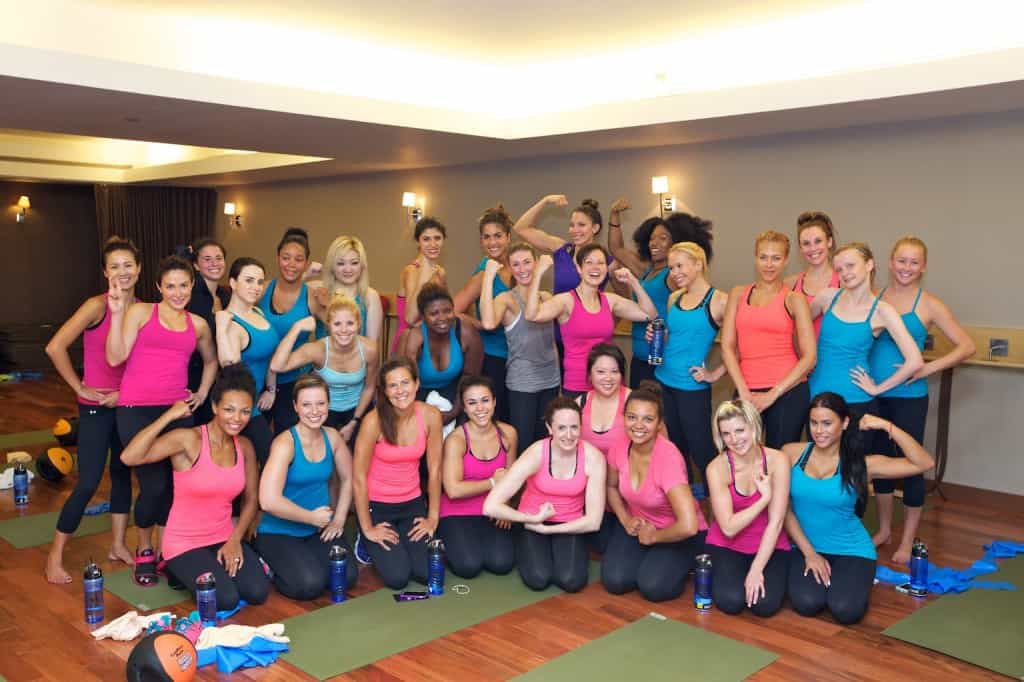 I have no idea how we were able to flex our muscles for long enough to take this picture with all 3987398573387465 camera phones, but we got it done.
After we were fully subdued and worn out, we got to mingle and check out what everyone had on, and talk to a couple of representatives from Under Armour about why they made the choices they've made as far as their approach to designing for women. I spent a lot of time talking to Jennifer, who manages Under Armour's Women's brand, about the Armour Bra… something I really think you Chesty McChestersons out there are going to love. (Sorry, did I sound jealous? Whatever. It's your fault!)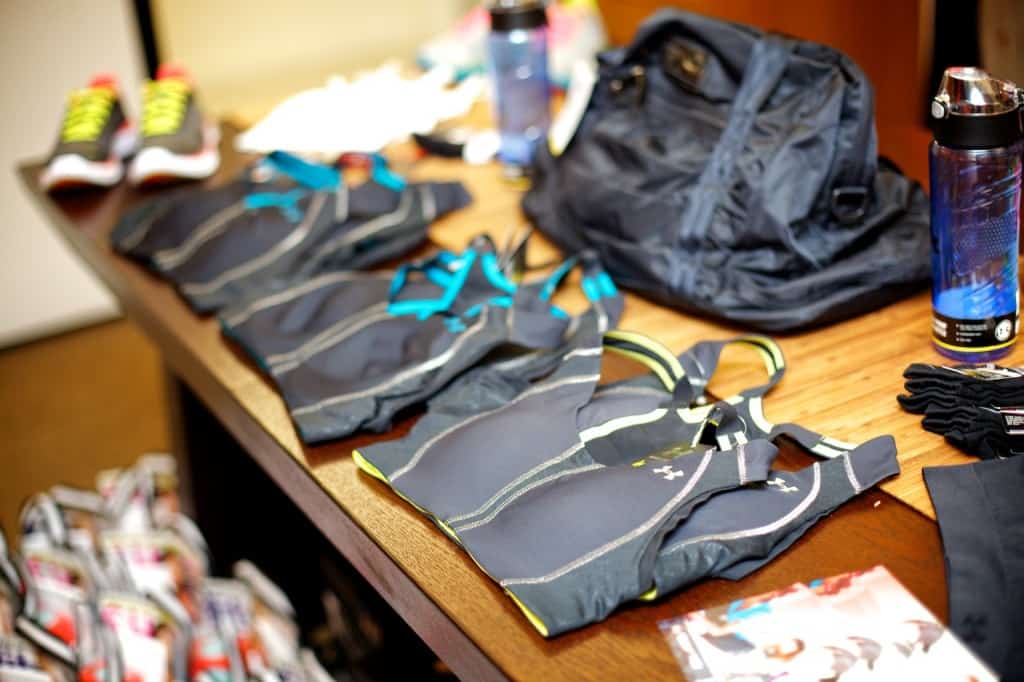 I had the opportunity to work out in this bra and, my word, this thing is phenomenal. The bra is sized not by Small, Medium, Large… but by your band and cup size… which allows for a much more custom fit. There's minimal digging and tugging at the arms, no cutting in at the band… the bra was a dream. Shoot, I was just glad that it made me look like I have a nice rack… but the real chesty ladies who were in attendance praised the bra, as well.
Along with the major league booty kicking, we were fed. Well.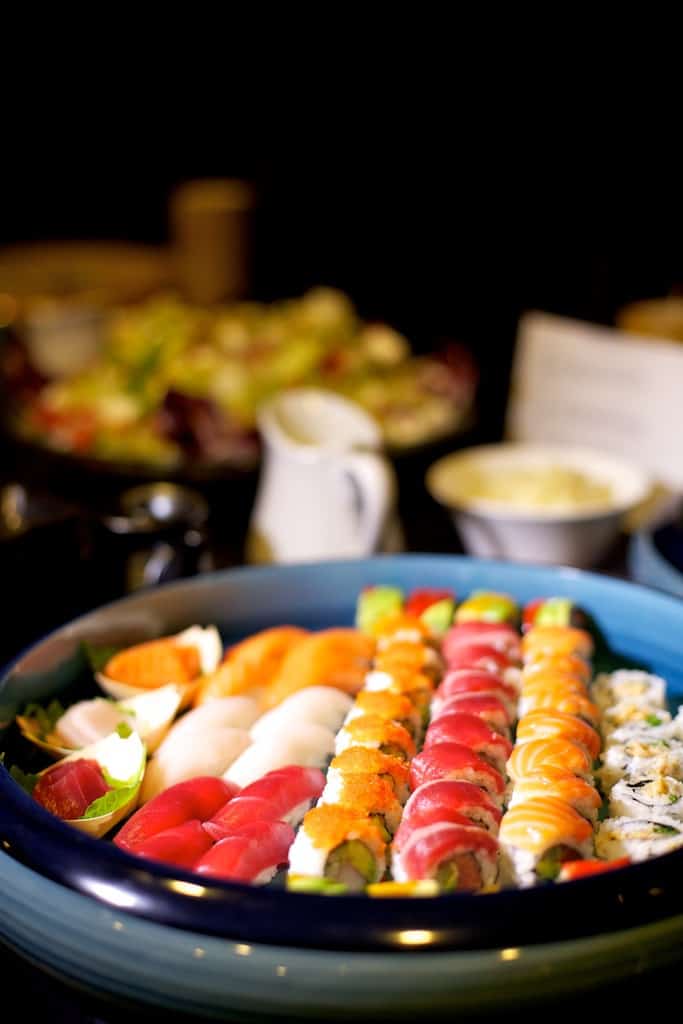 Hey… I'm always here for sashimi.
All in all, I really enjoyed myself. The Gansevoort is gorgeous, the presentation was dope, I found a new bra – who doesn't love that? – and got my booty kicked in it, and I got stuffed with sashimi afterwards. I won.
Oh, and did I discover #WhatsBeautiful? Look at that commercial. It's not the sweat. It's the feeling of accomplishment. No matter your size, you know that feeling from when you ran your first full mile, when you lifted your first weight and felt your first burn… pushing it to where it has never been before? That's far more beautiful than anything I can flex in the mirror.
…now, back to these miles. #RuntoberAwaits
Under Armour Women set out to redefine the female athlete by creating What's Beautiful, a program that encourages women to share their fitness journeys and receive motivation, free gear, and support from Under Armour along the way.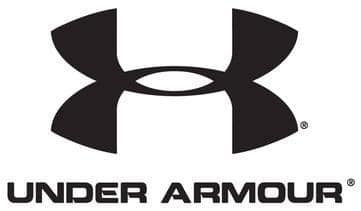 The Under Armour What's Beautiful community is growing by the minute and the women in the challenge are seriously bringing it. Check them out! Set your own goal. Crush it. And the 10 women with the most epic journeys will win a trip to Florida to the Under Armour Women's Camp Sweat where you will train with the best.
Disclosure: Compensation was provided by Under Armour via Glam Media. The opinions expressed herein are those of the author and are not indicative of the opinions or positions of Under Armour.