So many stories of inner-city environments that can't get their hands on quality fresh produce…. and lately, there's a growing number of stories of people creating their own grocery stores – mobile ones! – to make the magic happen. I want to talk about one in particular today.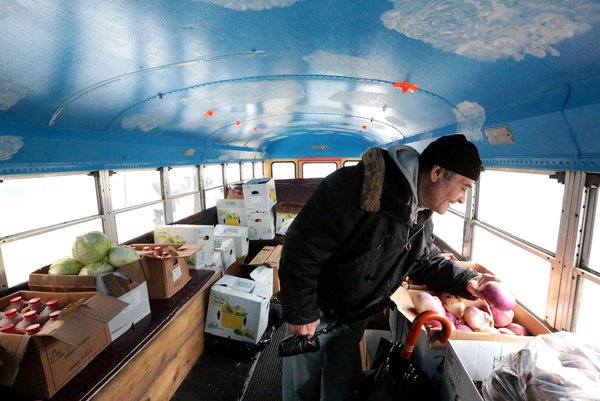 From The Bronx:
The old school bus painted with big green and purple leaves pushed through the icy rain to ease alongside Southern Boulevard in the South Bronx. The door swung open with a squeak, revealing a cornucopia of organic eggs, potatoes, onions, garlic, cabbage, apples and turnips piled on the seats.

Tanya Fields, the founder of this rolling veggie mart, hopped out and beckoned to an old man on the sidewalk. "Go on, see what we've got," she said. "I promise I won't bite you. Even if you don't want to buy anything, you can take some apples for free."

The man hesitated, then folded his umbrella and climbed aboard.

If Manhattan and Brooklyn have treat trucks dispensing gourmet bites on street corners, the South Bronx also has a food mobile of its own: one that delivers fruits and vegetables straight from the farm to the tables of the poor and struggling. The effort, called the South Bronx Mobile Market, was started last month with $65,000 in donations and grants raised by Ms. Fields, the executive director of the BLK Projek, a nonprofit group that sees food as a way to empower minority women and youth and stimulate local development.

The mobile market, which is modeled after similar efforts in Chicago, Detroit and New Orleans, strives to help people eat and live better in an impoverished borough that has been racked by some of the highest rates of obesity, diabetes and other health problems in the city. A common gripe among residents of the South Bronx — home to a sprawling wholesale produce market in Hunts Point — is that grabbing a burger and fries is far easier and cheaper than finding ripe tomatoes or crisp greens in local stores.

"You have to go outside the community to get good, fresh vegetables," said Shirley Littleton, 48, a program specialist for the disabled who shops in Washington Heights and Chinatown at least once a month for fresh produce. "You will not find it in the ghetto."

Ms. Fields, 33, who is expecting her fifth child, does the work for her neighbors by buying fruits and vegetables from Corbin Hill Farm, a network of rural farms, and reselling the produce from what she calls a "supermarket on wheels." She tries to hit the street each Tuesday and Wednesday. The bus, which is borrowed from another farm, runs on used vegetable oil. Ms. Fields plans to install solar panels on the roof — with a $12,000 donation from Green Mountain Energy — to power a refrigerator and freezer that can be used to store meats, organic milk and cheeses. She said she would like to join other community groups to offer cooking demonstrations and health screenings.

"I am saving my own life," said Ms. Fields, who moved to the South Bronx more than a decade ago from Harlem. "These are my folks. I know what they go through. This resonates with me and I want to do something to help them, and to help me."

Ms. Fields said that she keeps prices low — $3 for a dozen organic eggs, $1.50 for a pound of onions, $1 for a pound of turnips — and accepts food stamps along with cash and credit cards. In recent weeks, she has given away much of the produce to attract customers, and simply to help feed those who say they cannot spare even a dollar.

Last week on Southern Boulevard, Ms. Fields sold about $40 in eggs, onions and turnips and handed out a box and a half of apples in a three-hour period. Carlos Brito, 46, a butcher, took two apples for his children. "There's a big difference from the supermarket and from the farm to the Bronx," he said. "The flavor is good."
Myra Olivero, 50, a part-time cashier, scooped up two onions for $1.25 to make a sofrito, or sauce, for her stew that night. She said that she cannot afford her neighborhood supermarket — where three peppers can cost $7 — and instead scours a half-dozen ethnic food stores every week for fresh onions, peppers and cilantro. "I look at everything, I check it," she said. "I'm not going to give something old to my kids."

Sometimes, the freshest produce on the bus, like blue potatoes, turnips and beets, is not popular with those who do not know what is, let alone how to cook it.

Reinaldo Irizarry, the man with the umbrella, fingered the blue potatoes but hastily put them back when he saw their dark color inside. "I've never seen it like that," said Mr. Irizarry, 68, a retired welder. "If I bring it home, my wife's going to kill me."

Ms. Fields told him to take two blue potatoes to try for free. She took down his name and number, promising to call when she had red potatoes in stock.
This article is full of so much win. So much, so much win.
There's so much humanity, here. So, so much. I'm legit overwhelmed by it.
The Bronx is a unique place, but this is a story that is so, so common. Although I'm a bit annoyed by the snipe at "gourmet food trucks in Brooklyn," especially considering how outlets like the NYT systematically overlook the parts of Brooklyn that required community effort to get fresh produce in them in favor of covering the latest bullshit to come flying out of Williamsburg (all stuff that probably matters very little if you don't live here, I'm sorry), but I understand. What Fields is doing is remarkable, and this story is important.
There's so much paternalism involved with talking about the needs of the poor – we either want to throw the poorest of us to the wolves, or coddle them like babies. Look at that thoughtfulness displayed, here:
Olivero, who visits multiple stores to inexpensively acquire the products she needs – a thoughtfulness and effort that many middle class people cannot and do not display – and is careful to not "give something old to [her] kids." Looking at that made me wonder if she was aware of how that'll positively effect her children's embrace of fresh produce, making sure that everything is fresh and appropriately ripened.
Irizarry, who didn't want to spend money paying for something he knew his wife would be uncomfortable with, and Fields who countered with giving him the potatoes to take home for free to explore without the penalty of spending money on something he'd eventually hate. The humanity displayed in that gesture, alone, is powerful to me.
The degree to which Fields understands the importance of having access to fresh produce, and how she shares that as a part of her message: "I am saving my own life." I read that, and I get emotional. Like, come on – how often do we get to hear people talk about the importance of increasing access to fresh produce, within the context of saving lives? People who, mind you, are everyday people with a goal?
The technology of the mobile grocery, by the way, is pretty spectacular. You can barely get homes built with the kind of thoughtfully advanced technology that we see here. Mobile markets for impoverished communities, whether the NYT likes it or not, are due to the same challenges that mobile "gourmet trucks" face – establishing a brick and mortar store is not only expensive, but extremely limiting. Not only that, but whereas a standing store limits you to selling in that one place, a food truck allows you to travel – you can go where the events are, where the people are, and you can set a schedule that allows you to hit it all as you please. In Fields' case, the mobile unit proves to be especially helpful – should she choose to expand the amount of days and times she spends out in the streets with the truck, she could hit one corner one day, another corner the next, and bring fresh produce to several different parts of The Bronx at her discretion.
She's working with the community, talking to the community, likely because she is of the community. It's not a savior sweeping down and barking at the people who clearly need a guiding figure. So many different bases are being covered here, from improving access to increasing affordability to encouraging exploration. I feel like real change is being made, here.
There's so much humanity in this story – recognizing a need, earnestly fulfilling it, and helping people get what they need… and even offering things for free as a way to encourage people to at least check out what she has to offer. She's clearly not doing it for herself alone, but she is making amazing things happen.
If you're interested in supporting Fields' "The BLK Projek" from afar, consider clicking here to donate.
Talk to me about your communities – do you have adequate grocery stores? Do you have a special situation like what we see here in this story? I'd love to hear about it, and maybe feature it here. When life won't sell you lemons, sometimes you've just gotta go out there and sell your own.